LITTER "D"
Ich.Suddebok VORONOFF Ch. ARMA od Baraního dolu
Voronoff - video 1 (0,9MB) Voronoff - video 2 (3,8MB)

* 16.12.2005
| | | | |
| --- | --- | --- | --- |
| Name | Sex | Člp | Remarks |
| DOUGLAS | male | 70827 | |
| DAISY | female | 70828 | very good |
| DIANA | female | 70829 | CAC, excellent, 3x very good / 1m/AP/5 / ZV (Sp) II.pr. (152), BZ (SchwhK) I.pr. (113), LZ (Vp) II.pr., blood track 4,2, scent 3, loudness 4, ZN (BhFK) (84), breeding licence |
| DANCY | female | 70830 | ZV (sp) I. pr. (169) scent 4, loudness 3, ZN (BhFK) (84) |
| DAYVA SHEGODAY | female | 70831 | Champion of Russia, Champion of RKF, Champion of national dachshund club, very promising, excellent, 2x 2nd BIS puppy, BIS, BIS II., BIS III., 3x BIS-IV, best hunting dog, 9x BOB, 2x BIG, 11x CW, 6x CACJ, 4x CAC, 2x CCC, CACIB, CAC VDH, CAC DTK / Contact BhFK - 2nd degree diploma, Contact BhFK I.st price |
More pictures at personal pages of puppies: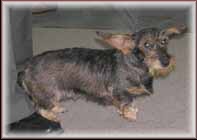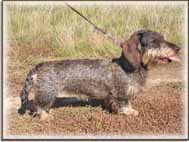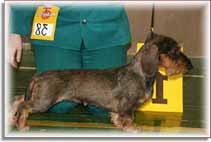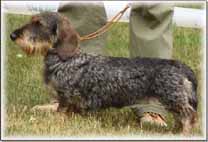 DAISY DANCY DAYVA SHEGODAY DIANA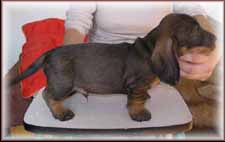 Ich. Suddebok VORONOFF
7,90kg, Sp. 4, PRA/Cat. neg
Interchampion SP/J I.p. (100)
Champ. VDH, DTK SchwhK
Champ. Belgie MRV II.c.
Champ. Francie BhFK (FR)
Champ. ČR, SK
Champ. WUT
Kl. vít. Belgie
Kl. vít. Francie
Kl. vít. Rakouska
2x Landessieger
2x Bundessieger
Bundesjugendsieger
2x BIS
9x BIG

GS. CARLOS vom Roggenhof
excellent Gebrauchsieger
Sp/J, Sp
SchwhK
SchwhK/40
BhFK, Vp

GS.HASSO v. Haussteter Brok
Exc/GS,Sp/J,BhFN, BhDN, Vp..

GS. GAUNER vom Schwarzen Moor

FANNY vom Schwarzen Moor

MERLE vom Passmoor
Exc../ Sp, Vp, St, BhFK

GS. TIMO vom Passmoor

GS. DORIA vom Passmoor

IaCh.JURASSIC Des Horles DeLa Vieille Voye
Ch. Belgie . IACh.
2x BIG Gebrauchsieger
3x BOB Sp/J
3x CAC Vp/J
SchwhK
BhFK

IaCh. Suddebok MALIK
Ch. Belgie, 2xBIG / GS, Interchamp. work.,Fr. work.ch

Ich, IACh. Suddebok KAKAO

IACh. Kobbedus INKA

IaCh.DIANA Des Horles DeLa
Vieille Voye
Exc., r. CACIB / 3x CACIT, Sp/J, Vp, St, BhFK, SchwhK

BOBBY du Sarrethal - Sp, Vp/r.CACIB

AITA du Schiffwasser - Sp / Exc.

Ch. ARMA od Baraního dolu
7,30kg, 1m/ARV/5, Sp. 4,4, PRA neg.
2x BOB ZV I.c., LZ I.c.
Vítěz Slovenska HZ I.c, BZH I.c.
Národní vít. LT BZ I.c.,ZN (84)
Champ. CZ, SK MRK III.c.
Champ. PL, SLO MSBL I.D.(72)
Champ. WUT BL I.V. (72)
2x Nejl. fena MRV I.V (100)
3x r. CACIB Norník
CAC LT 4x CACIT
2x CAC SLO 2x CACT (HUN)
CAC VDH "U"
Oblastní vítěz Wa/T

Ich. MARTY z Kozíčku


Interchamp. norník
Ch. CZ , SK diviačiar
BIG MSBL I.H
5xBOB ZV I.c.
HZ, BZ,LZ I.c.

IRK della Porta di Pietra


BIG, BOB, CAC / ZV, ZN

LE KING des Treize Fontaines

QUEEN vom Leoprechting

GAJA z Hetmanskiej stanicy
Exc.

Ch. NICO v. Windmühlenberg

SZANTA TOSCA z Mog. Borów

DINA z Ondřejnických lesů


velmi dobrá r. CACT
ZV I.c.
BZ I.c.
LZ I.c.
ZN

AMOR z Chotára


NV, r.CACIB / ZV,BZ,LZ, ZN

Ch. NICO v. Windmühlenberg

FANNY od Marcelky

ZORA od Řeky Lomnice


v.d.
norník, CACIT, ZV I.c., MSBL I.D

Norník

NERO z Jarohněvic

IVETA Staccato



News from Russia: Dayva Shegoday Grand Amity offsprings NABOB NABOKOV Tarantela.Rus and NEFERTARI TARA Tarantela.Rus are at pictures in summer issue of Russian "Dachshund magazine". They were at Russina club show, where Neferatri Tara wom Club winner title, Nabob Nabokov Excellent 1, CAC. Then he was beaten by this year's World Winner Protsionus Carambol.
While Nabob Nabokov continues his show career in autumn (obtained 2x CACIB and 1x BIG at Ukrajina, CACIB in Russia and Luxemburg, Nefertari Tara became a mother - so our Arma is grand-grand mother for the first time! Sire of "T-litter" at kennel "Tarantela.Rus" is World Winner 2011 Protsionus Carambol.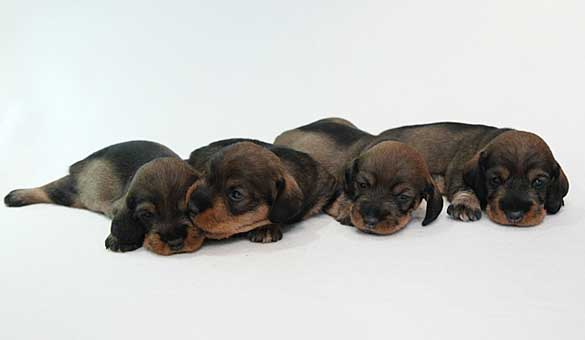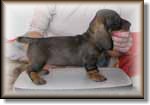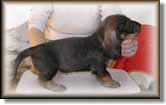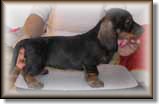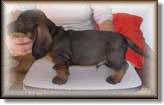 Bitches 1-4 and male-dog Douglas -6 weeks old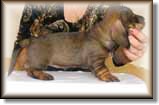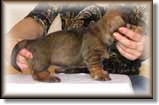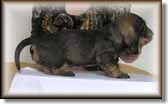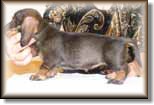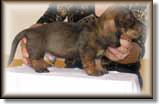 Bitches 1-4 and male-dog Douglas - 5 weeks old
Puppies are just one day old.....